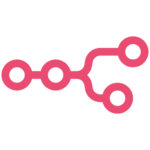 About
n8n is an extendable workflow automation tool. n8n's node-based approach makes it highly versatile, enabling you to connect anything to everything.
Available integrations
n8n has 200+ different nodes to automate workflows. The list can be found on: https://n8n.io/nodes
Features
Open – Thanks to our fair-code license, run n8n locally, or the cloud. Decide who gets access and where your data is stored.
Extendable – Easy to augment with custom functions logic, and apps with minimal engineering effort.
Powerful – n8n's node based editor lets you map anything to everything and go beyond basic ETL.
Screenshots: