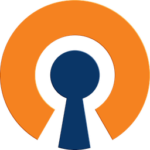 OpenVPN
This is an OpenVPN server, packaged with a very simple key manager.
Features
TCP based VPN tunnel with AES-256-CBC encryption
Pre-shared static key (PSK) for "extra protection" to the the TLS channel
Devices connected to the VPN can reach each other through the domain device.user.vpn.mydomain.com or simply device.user
Client connection status indicator
Prevents DNS leaks using a private DNS server that is run as part of the app
Issue and revoke per-device client certificates
This app can be installed multiple times to create independent OpenVPN instances
Usage
The key management interface is available under the / location. Each Cloudron-authenticated user can create and download keys for themself.
Screenshots: