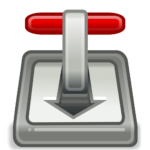 This app packages Transmission 3.00
Overview
Transmission is a cross-platform BitTorrent client.
Features
Uses fewer resources than other clients
Daemon ideal for servers, embedded systems, and headless use
All these can be remote controlled by Web and Terminal clients
Local Peer Discovery
Full encryption, DHT, µTP, PEX and Magnet Link support
Configuration
By default, this app is configured to, at the end of a download, automatically hard-link the downloaded files from
/app/data/files/Downloading/ to /app/data/files/Downloaded/. This allows potential post-processing by other apps of
the file in Downloaded, without interfering with seeding from the file in Downloading.
Also, it seeds torrents up to a ratio of 2, then automatically remove them, and removes the corresponding files from
Downloading.
To change the configuration, you must edit the file /app/data/transmission-config/modifiable.settings.json then
restart the app. Changing configuration from the web interface will not work.
Screenshots: